A common tendency in our busy lives is to limit mindfulness of God to certain times and places by default, not intentionally. But God breaks through our busy rhythm in lots of ways. For us as devotees of St. Jude, He calls us to prayer with St. Jude. We hear the call when we're facing profound challenges and are seeking the healing, strength, and comfort of St. Jude's intercession.
We can also hear God's gentle reminders when life is humming along, especially in small moments of gratitude. These are often spontaneous and seem to spring from somewhere deep inside us that knows the connection of gratitude is special and healthy. The more we turn to St. Jude, the more we open ourselves to a mindfulness of God's presence in the tough times as well as in the good—and to a recognition that our prayers nourish our spiritual holy ground through all times.
Devotion to our patron St. Jude gives us a bit of a spiritual advantage that comes from a heightened sense of God's presence in our lives. Belonging to St. Jude's community of devotees, we tend to have praise, gratitude, and a faith in God's help underlying so much of our faith life. Even our ever-ready and simple prayer of "St. Jude, pray for us" helps us to bring our love for God to the forefront of our days, even as we are quietly moving through our other daily realities.
Our faith helps us tolerate adversity with the advantage of a perspective that is far bigger than ourselves. God shows us again and again in the Gospels and in the lives of the saints that He uses difficult times to build character and draw us to Him. We don't have to be joyful about the difficulties, which is a good thing since of course we don't like those burdens. But in darker times, we ask St. Jude to give us the strength to know God's love is always with us, even if we're not feeling it as much in the moment.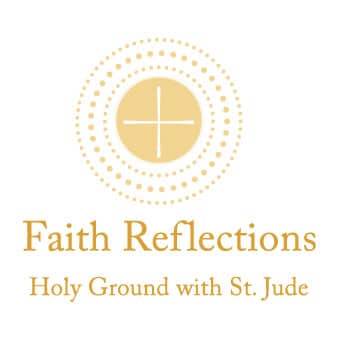 "Remove the sandals from your feet, for the place on which you are standing is holy ground."
(Exodus 3:5)