There is so much about our faith that centers on generosity, especially the abundance of love we receive from God unconditionally. We know fundamentally we are blessed. But even so, it takes some effort to cultivate our attention to finding—and keeping—a continued awareness of the presence of God in daily life. This awareness makes us more open to seeking God's hope and His guidance for us in all things, from great and small wonders to the realities of the poor and vulnerable.
The generosity of spirit in this awareness comes from remembering that God is the creator of all. He gave us life, sustains us by His gifts, and redeems us. When we try to carry this profound recognition—this fundamental gratitude—with us even in difficult times, we have the peace and resilience to be a stronger presence of optimism and hope for others. Our lives become an ongoing experience of giving to others—simply, safely, and in ways that don't depend on our financial status—as God has given to us.
Others throughout our daily interactions will be impacted by our respect of them, often through actions as brief as eye contact as we thank someone for anything. We reflect a spirit that appreciates the goodness of others over their flaws; and when faced with those very present flaws, the generous spirit enables us to offer up a quick prayer for help and healing for someone we feel is in some kind of suffering, including those we love.
A generous spirit reigns when we focus on the strength we receive when we make decisions in favor of positive thoughts, we work to live with a merciful tone in our relationships, and prefer to give compassion freely to others. This rhythm to our lives keeps us authentically celebrating and encouraging others, realistically and with humility in our own hearts. We show these others—especially family, friends, and peers—that they matter. With every positive choice is an act of generosity, which becomes a gift from us to someone else, at the same time it is a reflection of God's love extended to us and a thank-you from us to Him.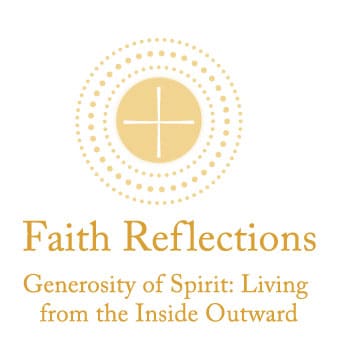 "Do not neglect hospitality, for through it some have unknowingly entertained angels."
(Hebrews 13:2)