Mother Teresa famously said "Let no one ever come to you without leaving better and happier. Be the living expression of God's kindness: kindness in your face, kindness in your eyes, kindness in your smile." She encourages us that our actions of simple kindnesses are as important to faith as our prayer life. Prayer life and action of every positive sort work in tandem; one builds upon and nourishes the other.
Teresa is a saintly example whose actions most of us would never expect to echo . . . but there is still much we can learn from her. Her clarity about the impacts we can have in the lives of others—many others!—in our day-to-day circles steers us toward very real, very attainable faith-in-action goals. Our acts reflecting God's kindness have meaningful positive impact even for the people we interact with only transactionally, as at the grocery store.
The bonus beauty of this kindness is that the positive impact extends beyond the recipients of our gentleness, and circles back to enrich us, too. The more we set our tone and our faces to reflect our acknowledgment and enjoyment of others, the more we realize the tangible effect of our respect for others, and the more readily the kindnesses develop in all levels of our life. As with other aspects of faith that grow with consistent engagement on our part, these simple, authentic, and even quiet gifts are experienced within a spirit of generosity.
Our lives are filled with plenty of opportunities to take offense at or to be irritated by what we see and hear and experience. It's often easier to not engage people, especially strangers. But in safe situations—again, like your grocery store or pharmacy—Mother Teresa's simple call to action is rooted in God's love. It is healthy for us and our faith to see the good in others, even if it's only a "How are you?" to a store worker. We can become more aware of our capacity to let go of the temptations of negativity or of doing what's easiest; we can favor mindful gentleness and a willingness to make time for others—including our family and close friends.
So, while Mother Teresa's life choices are, for most of us, not what we might be in a position to do for lots of reasons, the motivation behind her choices—and her message to us to smile, make time for and enjoy one another—can still be wonderful, beautiful encouragement for smaller but absolutely meaningful choices of ours throughout each day.
Out of this love from God, we discover everyone has needs we can tend to on some level. Small gestures toward others don't replace the other calls to service, but they do form a strength that brings us more in touch with our faith and its many manifestations.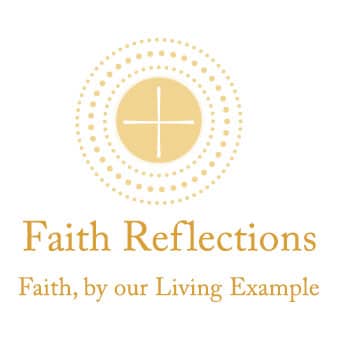 "Clothe yourselves with compassion, kindness, humility, gentleness and patience."
(Colossians 3:12)